Saint Josemaria was born on January 9, 1902. Here are four videos about his life and teachings.
For Saint Josemaria's birthday on January 9, we offer some excerpts from an article published by "Real Clear Religion" entitled "The Tweetable Saint."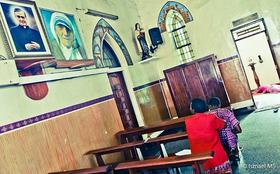 A new video of Saint Josemaria offers 44 brief clips from his oral preaching between 1972 and 1975 in Europe and Latin America. It can be downloaded or purchased from Beta films with English subtitles.
I have come to see that every Hail Mary, every greeting to Our Lady, is a new beat of a heart in love. (The Forge, 615)
``Immaculate Virgin, I know very well that I am only a miserable wretch, and all I do is increase each day the number of my sins ... '' You told me the other day that was how you spoke to Our Mother. And I was confident in advising you with assurance to pray the Holy Rosary. Blessed be that monotony of Hail Marys which purifies the monotony of your sins! (Furrow, 475)
The Rosary is said not with the lips alone, muttering Hail Marys one after the other. That is the way over-pious old men...

"The holiness that Our Lord demands of you is to be achieved by carrying out with love of God your work and your daily duties, and these will almost always consist of small realities."
SAINT JOSEMARÍA

, Founder of Opus Dei